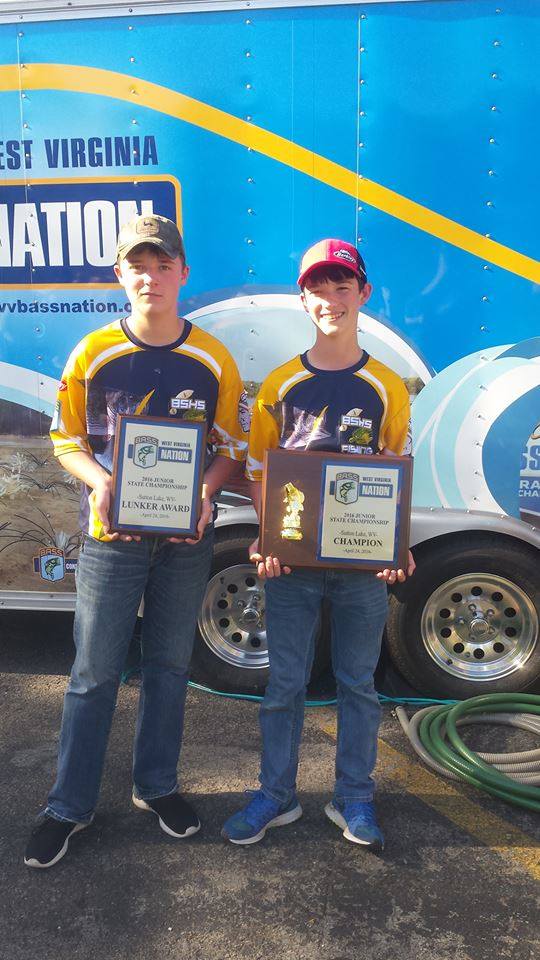 2016 BNWV Jr. State Champions
Sam Ambrose and Trevor Alanese
The West Virginia B.A.S.S. Nation's Youth program's main goal is to promote and encourage youth fishing and a passion for this great recreation, fisheries conservation, sportsmanship, improving our communities and sponsoring projects & events that fulfill these goals. We pledge to function as a dynamic and effective link with the individual chapters and other organizations embracing the principles and purposes of the Bass Anglers Sportsman Society (B.A.S.S.).
The WV B.A.S.S. Nation's Youth program also conducts educational seminars with Marshall County's Sand Hill Elementary, the WV Schools For The Deaf and Blind, and the Taylor County 4H Chapter. Our youth members, along with our adult members, travel to these locations to give classes on;
Fish Identification
Boating Safety
Knot tying
Lure selection
Casting
Fishing techniques
Once the students finish the classroom portion, they're taken to a local pond/lake to try some of the things learned in the classes.
Benefits of competing in the WV B.A.S.S. Nation Youth Organization:
"We need to focus on recruiting the college kids and younger kids and getting them fishing and educate them."
— Jerry McKinnis
Exposure to the great outdoors
Friendly and healthy competition
Advancement to the regional level
Advancement to the national level
Chance to win trophies, lures, tackle, bass boats, and college scholarships,
There is a designed progression from the youth at the state level to the college level. There are hundreds of colleges throughout the country that offer collegiate bass fishing and scholarships, as well.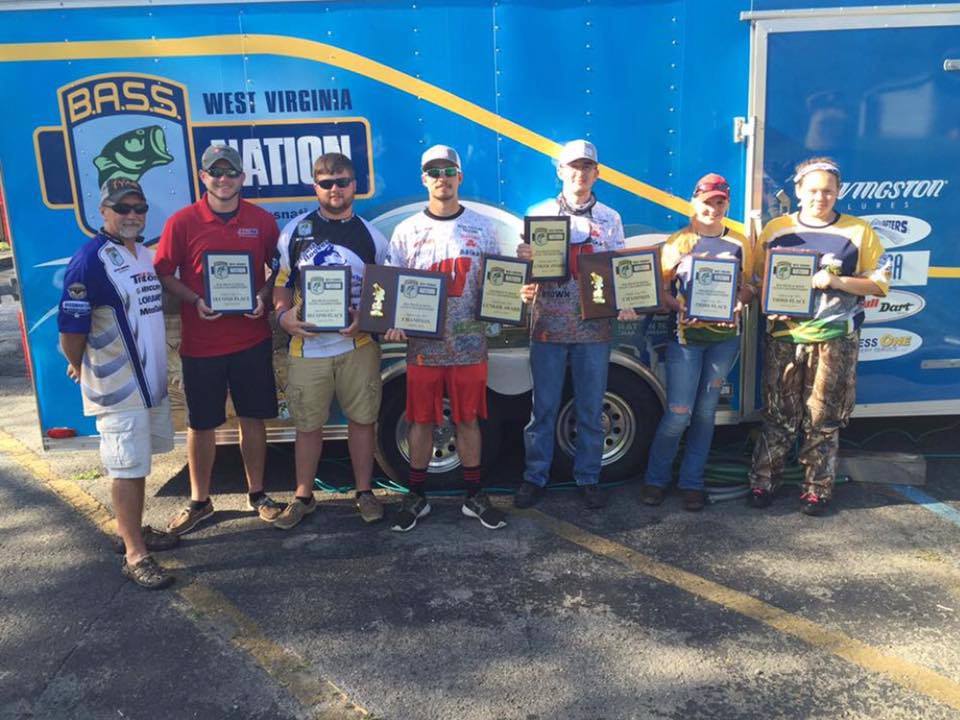 2016 BNWV High School State Championship Top Three Teams
How to join:
It is simple to join. To join an existing B.A.S.S. Nation of WV Jr. Club, contact BNWV Youth Director Dana Brown and he will get you in touch with one of our Jr. Club Sponsors.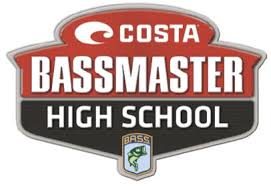 To form a new Jr. Club, go to http://www.bassmaster.com/news/register-your-junior-club for all the info. Basically, you need 2 youths ranging in age from 7-13. Al BNWV Jr. Club members are eligible to compete in each year's WVBN Jr. State Championship.
To form a new High School club, go to https://www.bassmaster.com/high-school, we are now forming new High School Teams for Freshmen through Senior classes. We will have the 2017 BNWV High School Team State Championship in Spring 2017. For more info on High School Teams, go to
http://www.bassmaster.com/high-school.
About Us
This chapter of the West Virginia B.A.S.S. Nation helps to promote outdoor activities and an enthusiasm for competitive bass fishing.
Contact Us
Dana Brown – Youth Director
Tel 304-457-3847
Cell 304-613-6133
Email: bassinnitro@gmail.com
Web: http://wvbassnation.org/